Natalie Chavez
Manager of Operations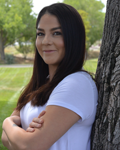 Natalie is the face and the voice of The Rio Rancho Family Counseling Center. Chances are she is the first person you will hear when you call for your very first appointment. As you speak with her, we know you will feel welcome, and any uncertainties will begin to fade away as Natalie asks you about the troubles that bring you to call us.
When you arrive for your introductory appointment, Natalie's office will be your first stop. Here, she will greet you, confirm your appointment, and check your insurance for you. Natalie is our resident expert about the twists and turns of health insurance, and will be able to answer the questions you may have about your own coverage.
Natalie was born and raised in Albuquerque, and lives there today with her husband and two children. Whether you have lived here all your life or are a recent newcomer, Natalie's knowledge and experience will be a big help to you. All of us at The Rio Rancho Family Counseling Center feel especially blessed to be able to count Natalie as a member of our group.